'Free food' myth threatens Sharehouse Market in Sheffield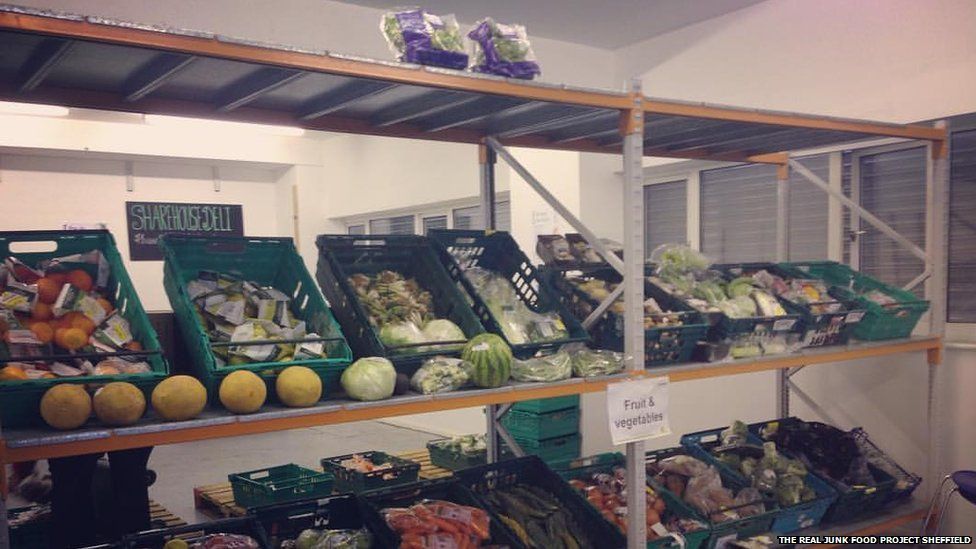 A shop where people can buy food for whatever price they can afford is under threat because of a misconception the goods are free.
Real Junk Food Project's Sharehouse Market in Sheffield aims to reduce waste by taking surplus food from supermarkets and local businesses.
But the social enterprise said some were abusing the "pay-what-you-feel" policy, leading to a "free for all".
Project director Jo Hercberg said: "If it continues we will cease to exist."
Sharehouse Market customers are allowed to fill two bags of shopping with fresh fruit and vegetables, bread, snacks and other cupboard staples.
In return, they are encouraged to "pay what they feel" by giving time, money or skills.
But organisers said on some days more than 100 people were leaving with shopping but donations only came to £10.
Ms Hercberg said the situation had been made worse because of leaflets being handed out incorrectly stating the food was free.
"People are under the impression that they don't have to give anything and it's a big free for all," she said.
"That's not only devaluing the food, it's damaging the organisation. Without people's contributions we won't be able to continue."
Related Internet Links
The BBC is not responsible for the content of external sites.