Iceland Foods Limited fine for Rotherham death fall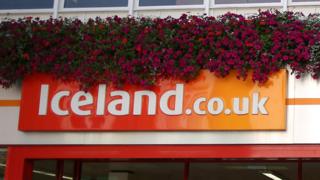 Iceland Foods has been fined £2.5m over the death of a contractor who fell through a ceiling.
Tony Hopkins was working at one of the firm's stores in Rotherham when he fell about 10ft (3m) from a platform that was missing a handrail.
It was found guilty of breaching the Health and Safety at Work Act after a trial at Sheffield Crown Court in July.
Iceland said Mr Hopkin's death in 2013 was "a terrible tragedy for which we can only express the utmost regret".
Live updates and more stories from Yorkshire
Mr Hopkins, of Silsden, West Yorkshire, was working for a contractor at the firm's store at Sycamore Road, Rotherham, on 28 October 2013.
He was to replace air conditioning filters located on a platform above a suspended ceiling in the warehouse.
He fell through the ceiling and sustained serious injuries from which he later died in hospital.
An investigation by Rotherham Council found no barriers in place to prevent falls from the platform, restricted space on the platform near the ladder and several tripping hazards, it said.
Iceland Foods Limited had not carried out a risk assessment over access to the platform, said the council
An Iceland spokesman said: "Mr Hopkins lost his life due to the the absence of a safety handrail around the platform on which the air conditioning equipment was located.
"This handrail had been specified in our design of the store, and our contractors had certified to us that it was in place. We naturally regret our reliance on these assurances, which proved to be completely untrue."
During sentencing at Grimsby Crown Court on Monday, the company was fined £1.25m for each of two offences and ordered to pay costs of £65,000 to Rotherham Council.