Warning over aerosols after man injured in car explosion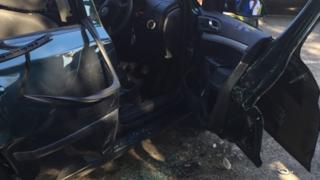 A driver was injured in an explosion after he is thought to have lit a cigarette after spraying an air freshener in his car.
South Yorkshire Fire and Rescue Service said the explosion had caused "significant damage to the vehicle".
The incident happened on Sheffield Road in Conisborough on 26 August. The extent of the man's injuries is not known.
Firefighters are warning of the dangers of using aerosols in confined spaces.
More on this and other South Yorkshire stories
It is the second recent incident of an explosion in a car linked to air fresheners and smoking.
On Wednesday, a driver suffered minor injuries after an explosion in a vehicle in a superstore car park in Southend, Essex.