Cygnet Sheffield: MP urges NHS to break ties with private hospital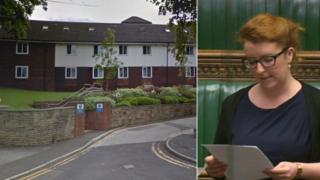 NHS England has been urged to stop commissioning beds at a private mental health hospital in South Yorkshire due to concerns over patient safety.
Labour MP Louise Haigh has written to the health secretary to demand an urgent meeting about the quality of care at Cygnet Hospital Sheffield.
The Care Quality Commission (CQC) has rated the hospital "inadequate" on safety.
Cygnet said the health and wellbeing of patients was its "absolute priority".
The CQC has held inspections at the site three times in 13 months, two of which were prompted by serious incidents.
In its most recent inspection, held in July and focused on the Haven ward, it identified a number of issues giving it "significant concern for the health and wellbeing of patients".
Speaking in the House of Commons in July, Ms Haigh said a young woman was found with MRSA with open wounds on a ward.
'Lack of learning'
The CQC also found shortfalls in patient risk assessments, reporting of incidents and safeguarding procedures.
It did find hospital management had started to provide additional training to tackle "shortfalls in adherence to patient observations".
Since raising the issue of a national shortage of mental health beds during Prime Minister's Questions, Ms Haigh has written to NHS England, Jeremy Hunt and Cygnet Healthcare over a "lack of learning" from incidents at the hospital.
Ms Haigh, Sheffield Heeley MP, said the recent CQC report showed the facility was "not fit for purpose".
"It is simply unacceptable for vulnerable patients to be treated in a facility not rated as safe," she said.
The independent hospital, on East Bank Road, has capacity for 55 patients across four wards and provides mental health services for women, children and adolescents.
In a statement, the hospital said it took CQC feedback "very seriously".
A spokesperson said: "We have taken immediate steps to address the areas highlighted for improvement."
A further full CQC inspection was carried out at the hospital in mid-August, with the watchdog yet to publish its findings.
An NHS England spokesperson said: "The service provider has developed a comprehensive action plan and we, together with the CQC, are regularly reviewing this to make sure that improvements are made."