Injured soldier Ben Parkinson launches review of his care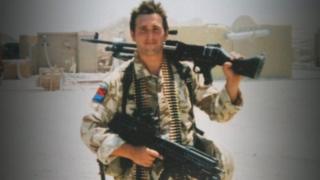 A paratrooper who survived some of the the worst-ever battlefield injuries has asked lawyers to investigate concerns over his care.
Lance Bombardier Ben Parkinson lost both legs and suffered more than 40 injuries in a landmine blast in Afghanistan in 2006.
The 31-year-old from Doncaster and his mother are now calling on his care providers for more help.
NHS England said it was working to arrange reviews of his care.
Lawyers claim his care providers are in breach of the Armed Forces Covenant.
More stories from around Yorkshire
The covenant is a promise that those who serve, or have served, in the armed forces, and their families, are treated fairly.
L/Bombardier Parkinson was two weeks from finishing a tour of Afghanistan when his Land Rover hit a mine. Medical staff did not expect him to survive the explosion.
The former paratrooper's care is provided by the Ministry of Defence (MoD), NHS England and Doncaster Clinical Commissioning Group (CCG) but his mother, Diane Dernie, said the organisations failed to properly co-ordinate her son's care.
Their legal representatives also say the £540,000 compensation L/Bombardier Parkinson received is not enough to cover his "ongoing and extensive care requirements".
Lawyers from Irwin Mitchell have now written to the organisations claiming the MoD has failed in its duty to develop a coherent plan of care for the soldier and that NHS England and the CCG have not met their responsibilities.
Mrs Dernie said: "Considering everything that Ben has been through, it was a huge relief to secure some compensation a few years ago and we believed that Ben's care needs would be met going forward.
'Appropriate reviews'
"Sadly we have faced a number of issues with support and it has been difficult to identify who is responsible for what parts of Ben's care.
"Time and again we have asked for these urgent issues to be addressed, but Ben is still not receiving anywhere near the level of funding required to buy all the care he requires."
The organisations involved with providing care for L/Bombardier Parkinson said they are working together.
An MoD spokeswoman said: "We are developing a new initiative with the NHS to provide patient-centred support."
A spokeswoman for NHS England said: "We are working with the organisations involved to arrange appropriate reviews of Ben's ongoing care and treatment requirements."
A Doncaster CCG spokeswoman confirmed they had received the letter and were acting upon the information.