Lovelorn nightjar fails in 600-mile flight of fancy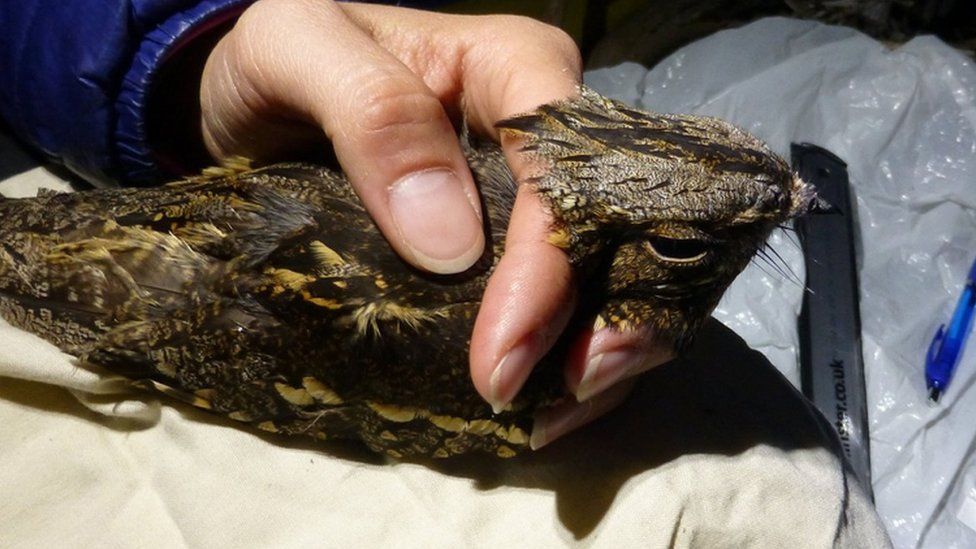 A bird has flown more than 600 miles (965 km) over England in less than a week in a lonely quest for a mate.
University of York researchers followed the nightjar using a GPS tracker during the bird's breeding season.
The nightjar started his quest in the Humberhead Peatlands, before flying to Cambridgeshire, Norfolk, then Birmingham via Milton Keynes.
The team said the lovelorn bird had just weeks left to find a mate.
Dr Kathryn Arnold, of the university's environment department, said the bird's tracker, smaller than a 20p coin, showed it had headed home but had still not found a mate with about three weeks of the breeding season to go.
Dr Arnold said: "We were shocked when the satellite tracking data came back. After four days of searching and not finding a mate, [the bird] did a tour of England.
"In less than a week he flew over 600 miles. He made several stopovers but obviously never found a suitable female to start a family with."
Having downloaded the GPS data researchers checked there was no malfunction with the tag or error with the satellites.
The other 20 birds followed by researchers all stayed within a few miles of the peatlands during the breeding season, said Dr Arnold.
The peatlands, covering several moors, are a remnant of wetlands and used to be dug for peat. The area is now an important site for breeding nightjars.
The birds have been in decline for many years and are a species of conservation concern.
Nightjars are most active at dawn and dusk when they hunt for moths, beetles and crane flies
They demonstrate astonishing aerial agility as they execute rapid twists and turns in pursuit of their prey
Nightjars are summer visitors to the UK, which is right at the western tip of their breeding range that extends from Africa to Mongolia.
During courtship, the male attracts a mate by calling with a loud "churring" call that contains 1,900 notes per minute
Nightjars have an unusual serrated middle claw which they use like an in-built comb to preen their feathers.
Related Internet Links
The BBC is not responsible for the content of external sites.