Rotherham lung disease centre treats 8,500 patients in former coal-mining area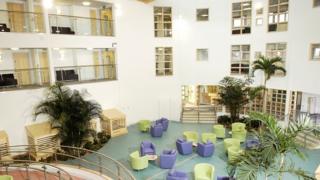 A centre to treat chronic lung conditions in a former coal-mining area has seen 8,500 patients in 10 years and reduced hospital admissions.
BreathingSpace in Rotherham, South Yorkshire started in 2007 and was aided by the Coalfields Regeneration Trust.
It treats chronic obstructive pulmonary disease (COPD) the term for a range of lung conditions such as bronchitis, caused by smoking and pollution.
Many former miners now suffer breathing problems due to conditions in the pits.
At its peak in the early years of the 20th Century almost 1,250,000 people worked in the coal industry but the last deep coal mine in the UK was capped off in March 2016.
The centre claimed it had saved £6.8m on NHS hospital admissions. and reduced pressure on hospital beds.
It calculated that the average hospital stay with this type of disease was two days at a cost of £800 for each of the 8,500 patients treated.
Gail Miles, Coalfields Respiratory Nurse Consultant at the centre, said: " We know that we have saved lives and that our treatment has given patients a quality of life they never thought they would get back."
"We want to encourage other towns and cities throughout the UK and across the world to use our experience."
People living in the coalfields communities reported 30% more long-term health problems compared to national figures according to an independent report commissioned by the Coalfields Regeneration Trust in 2015.
Many of these ailments are believed to be caused as a result of the poor conditions experienced working in the mines.
The trust invested £7m into the project and has supported the 5.5m people living within coalfield communities since 1999.