South Yorkshire PCC will not appeal against Crompton ruling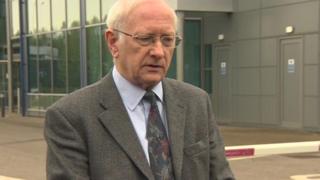 A police chief has said he will not appeal against a court ruling he acted unlawfully.
South Yorkshire police and crime commissioner Dr Alan Billings suspended the force's chief constable and called for him to resign after the Hillsborough inquests.
Ex-chief constable David Crompton successfully challenged the decision.
Dr Billings said he did not believe it was in the public interest to commit further funds to pursue the case.
Read more about this and other stories across Yorkshire
"Instead, I will be supporting the Association of Police and Crime Commissioners in dealing with the constitutional issues raised by the judgement through Parliamentary means rather than engaging in an expensive legal process," he said.
Mr Crompton welcomed the High Court ruling but has not yet commented on Dr Billings' decision not to appeal.
Dr Billings and Mr Crompton had clashed in the wake of the April 2016 findings into the deaths of 96 people in the Hillsborough stadium disaster in 1989.
The inquests concluded all those who died were unlawfully killed.
Mr Crompton gave two statements after the verdicts, the second of which appeared to justify the force's line of questioning about the behaviour of fans.
After the findings were delivered, the PCC decided to invoke a procedure under which Mr Crompton was suspended, citing an erosion of public trust in the force.
He was ultimately required to resign that September, but had intended to retire in November after 30 years of service.
Timeline