Manchester attack: Victim Kelly Brewster 'shielded niece'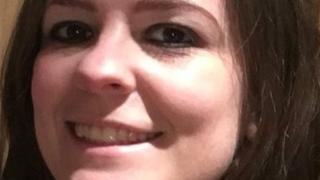 A woman confirmed to be one of the victims of the Manchester terror attack shielded her niece from the blast, her family have said.
Kelly Brewster, from Sheffield, died in the attack at the Ariana Grande concert at Manchester Arena on Monday.
Her uncle Paul Dryhurst said 32-year-old Ms Brewster had "heroically shielded" her 11-year-old niece from the blast in the foyer.
Her partner Ian Winslow confirmed on Facebook Ms Brewster had been killed.
More on this and other Yorkshire stories
Mr Winslow wrote: "Not sure how this works but it isn't good news.
"Kelly Brewster wasn't one of the unidentified hospital patients.
"She has sadly passed away in the terror attack yesterday.
"Kelly really was the happiest she has ever been and we had so many things planned together.
"My daughter Phoebe will be absolutely devastated like we all are."
Ms Brewster, a former City School pupil, who worked for Irwin Mitchell Solicitors and insurance company Aviva, had been to the Ariana Grande concert with her sister, Claire Booth, and her sister's 11-year-old daughter.
The family say Ms Booth and her daughter were both being treated in hospital.
Close friend Alix Bingham said she was struggling to come to terms with news of Ms Brewster's death.
"It hurts every time I see her face on TV or on Facebook, it brings it back home that it had really happened and it's not something I can wake up from," she said.
"She was amazing. She was one-in-a-million. She was so happy and loving. She loved life and everyone in it. She was very close to her sister and absolutely loved both her nieces."
Neighbour Irene Mcilhagga said: "I can't get over it. I can't even think about it.
"I've known her since she was a little girl.
"She was very kind. She would help anybody."