Driving theory test cheat Zaid Khalif J Sultan jailed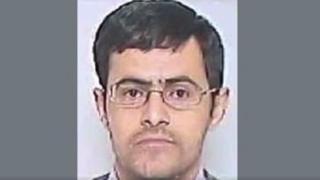 A man who cheated during a driving theory test has been jailed for four months.
Zaid Khalif J Sultan, 46, of Calvert Road, Sheffield, used a Bluetooth device in a mobile phone to obtain the answers via an outside source.
Sultan was convicted of fraud at Nottingham Crown Court on Tuesday.
He was also given a 16-week custodial sentence to be served consecutively for breach of a previous suspended sentence.
Andy Rice, of the The Driver and Vehicle Standards Agency (DVSA), said: "These people who cheat are putting the general public at risk."
Live updates on this and other stories in Yorkshire
The theory test was carried out in Nottingham in February 2016. The agency had been tipped off Sultan would cheat and he was arrested after the test. He pleaded guilty to the offence in December.
"DVSA takes very seriously the fraudulent use of communication devices during the test process and works closely with the police to bring offenders to justice," Mr Rice added.
The theory test was introduced in 1996, replacing questions about the Highway Code during the practical test.