Man dies in long ambulance wait, says Sheffield MP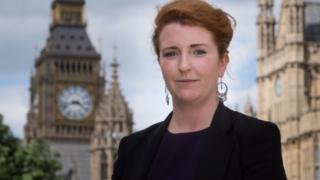 A man died during a two hour and 40 minute wait for an ambulance, according to an MP.
Louise Haigh, Labour MP for Sheffield Heeley, spoke about her constituent's death in parliament on Monday.
Ms Haigh told the BBC the deceased man's family wanted to remain anonymous but he had called for an ambulance after having breathing difficulties.
Yorkshire Ambulance Service (YAS) said it was aware of the incident and was liaising with the patient's family.
Live updates on stories in South Yorkshire
Health Secretary Jeremy Hunt said in parliament: "What happened in that situation is totally unacceptable."
When the man rang for an ambulance, the call was classified as yellow with a target response time of 40 minutes, the MP told the BBC.
'UK-wide problem'
She said during the time taken to arrive, a call handler left answer machine messages asking if the man still needed an ambulance.
The man, who was on his own, had passed out and was unable to respond to the calls, Ms Haigh said.
She said he died before the ambulance arrived in the incident in November.
Ms Haigh said an internal inquiry was under way and the service had written to the man's family admitting the delay was due to a spike in demand.
"It is alarming that this might not be an anomaly and the ambulance can be so far over the target time," she said.
The MP said her comments were "no reflection on NHS staff, this is a UK-wide problem".
Ms Haigh said in parliament YAS had only hit the eight-minute target for code Red ambulance calls in 67% of cases last year.
The service employs more than 5,000 staff covering a population of more than five million.