Footballer turned South Yorkshire Police officer sacked for drug use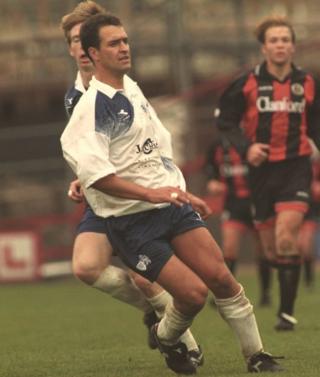 A former professional footballer turned police officer has been sacked after testing positive for cocaine.
PC Julian Broddle's use of the class A substance came to light following a random drug and alcohol test.
A misconduct hearing heard the South Yorkshire officer, who won the Scottish League Cup with Raith Rovers in 1994, was a "regular abuser" of cocaine.
Chief Constable Steven Watson said he had "no doubt" the appropriate sanction was to dismiss him immediately.
Read more about this and other stories from across South Yorkshire
The hearing was told Mr Broddle, 52, tested positive for cocaine in March 2016 after providing a urine sample.
Det Ch Insp Deb Mahmood said a hair sample also revealed "a medium concentration" of the drug which suggested he was a "regular abuser" of cocaine.
She said text messages sent to his partner "also supported the fact he was a regular abuser".
'Let down force'
Representing Mr Broddle, Sgt John Fox, from the South Yorkshire Police federation, said Mr Broddle had not attended as he was "embarrassed by his current situation".
He said: "On his behalf I would like to apologise to you [the Chief Constable] personally, to South Yorkshire Police and his colleagues for any embarrassment he has caused.
"PC Broddle accepts that he has let down and embarrassed South Yorkshire Police, his colleagues and himself."
He said that prior to the offence Mr Broddle had led an "exemplary career" over 18 years and had received a Chief Constable's commendation.
Mr Watson said: "The severity of the breach in this case, particularly as the conduct so directly contradicts what the police service stands for, leaves me in no doubt that the appropriate sanction for me to impose is to dismiss him from the force with immediate effect."
Mr Broddle, who was formally based at Rotherham Police Station, played for a string of clubs during his sporting career including, Raith Rovers, Sheffield United, Barnsley and Scunthorpe United.
'Racist and puerile'
Meanwhile, Special Police Constable Oliver Paduch, 21, was also dismissed after being found guilty of gross misconduct for posting racist statements on Facebook.
The hearing was told Mr Paduch's offensive comments were spotted by a colleague and reported to the force's Professional Standards Department in March.
Mr Watson said the unpaid volunteer's actions were "racist and puerile".
He said: "To the extent that language reflects character, it is clear he is unfit to perform the role of Special Police Constable.
"His conduct is such that no sanction short of dismissal without notice would reflect the gravity of his offence."