Barnsley retailers 'forced' to close due to £41m revamp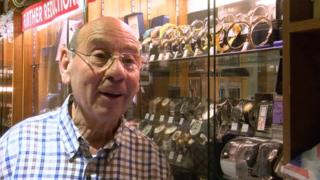 A £41m town centre revamp is forcing businesses in Barnsley to close, shop owners have claimed.
Barnsley Council's modernisation plan includes the demolition of Barnsley Markets.
Many stallholders have relocated, but some traders in the nearby Metropolitan Centre arcade say their businesses will fold because of a lack of council support.
The authority said it had consulted businesses interested in relocating.
Keith Warner is the third generation of his family to run jewellers, H Warner, which will close in the new year after 70 years in business.
'Institution'
He said shop regulars had been crying after hearing news of the closure.
"My grandfather started the jewellery business with a few watches and trinkets," he said.
"People have been coming in crying because we're not going to be here any more. Warner's is an institution.
"I want to cry. It's tearful."
Rebecca Dawson, who runs Momento card shop inside the arcade, said the council failed to offer her a suitable alternative and her business will close in January.
"The fact [the council] could do this to people who have been loyal business traders in the town centre for many years, to be treated with such disregard for your business and your livelihood I think is really quite despicable," she said.
David Shepherd, the council's economic regeneration director, said retailers had been made aware of the council's plans from the start.
He said council officers also met individual traders wanting information about relocating.
"We've given all due legal notification to businesses and had three separate consultations over several months to make sure businesses are aware," he said.
The council said Barnsley's new town centre will eventually have a new library, outdoor market square, cinema and shops.
A temporary market building, with space for 81 stalls, has now opened on the former Central Offices site on Kendray Street, where stallholders have been relocated to.
Market traders and retailers will eventually move back to the Metropolitan Centre once renovated in several years. It will then be surrounded by the new town centre retail development.
A council statement said: "We've worked hard with many independent retailers affected as a result of the town centre development and of course we understand the concerns and implications these retailers face.
"Some businesses have successfully managed to relocate into other shops within the town centre, with our support."
Though there is no other council space on offer, the authority said existing retailers would potentially be able to take space in the new retail development.