Non-Barnsley residents to be banned from waste sites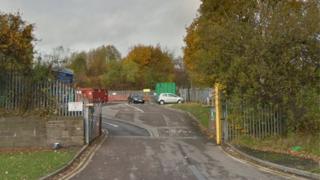 People living near Barnsley could be banned from using the town's waste recycling sites when the council brings in a new permit system.
Barnsley Council has approved plans for a residents-only permit scheme to prevent people from outside the area using its household waste sites.
Matt Bell of Barnsley Council said it could save around £25,000 in the first 18 months.
Critics said it could lead to more illegal fly-tipping.
Barnsley has four household waste recycling centres: Smithies Lane in Barnsley, Nicholas Lane in Goldthorpe, Springvale in Penistone and West Street in Worsbrough Dale.
Mr Bell said they are open 362 days a year.
He said any initiative that reduces waste coming through the council's services benefits Barnsley residents.
However, Stu Beardsall from Doncaster said it would mean an increase in fly-tipping - which costs the council hundreds of thousands a year.
He said: "You can't predict the times you'll go to the tip. I can foresee people clearing out their garage and being turned away from the tip. What are they going to do, take it back to the garage?"
'Barnsley sites for Barnsley residents'
Mr Bell said the council monitors the sites' usage. He said: "People from neighbouring councils do use our sites, [with] a cost to Barnsley Council and the taxpayer.
"We've introduced permits for trade and commercial waste and this is the next step to ensuring that Barnsley sites are open for Barnsley residents."
Residents can collect permits until March 2017, and after then if they show ID with their address they will still be able to use the sites.
It is hoped the move will make sites less congested and more usable as well as saving the council money.