Barnsley petrol station cashier hurt in hit-and-run 'will tackle again'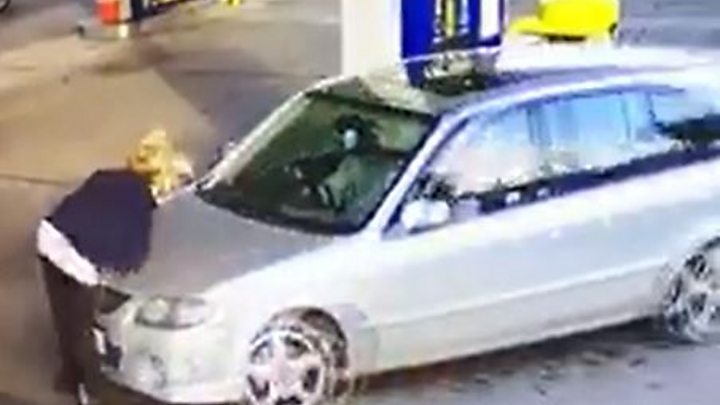 A woman hit by a car after attempting to stop the driver from stealing £120 worth of fuel said she will continue to tackle shoplifters.
Michelle Carr, a cashier at a Barnsley petrol station, was thrown on to the bonnet in the hit-and-run and suffered bruising to her back, shoulder and leg.
CCTV footage of a man filling an oil drum at a station on Park Road before driving off has been posted online.
South Yorkshire Police said they were investigating.
Ms Carr said she was shocked and "lucky" to be alive.
She said: "It happened so quick. It's the last thing I thought he'd do. I actually thought he'd probably reverse and go round me but definitely not straight through me."
The 46-year-old said she went out on to the forecourt to "try tackle him" and ask him what he was doing.
She said: "I was really, really lucky. I went straight over the bonnet and fell on my right side so it's just my back and top of my shoulder and right leg bruised.
"I could've gone straight under the car."
Ms Carr said she had always been "the type of person" who confronted shoplifters and would continue to do so.
She said: "I've worked in shops since I was 16.
"I'm the one that always tackles shoplifters, go straight for them and won't let them get out of the shop without tackling them first.
"That's me. Think I'll probably still tackle them. But I wouldn't want to stop a car."
South Yorkshire Police said it was investigating the incident at the Jet petrol station, which was reported to have taken place at about 13:00 GMT on Sunday.