Funding boost for derelict town hall and Courthouse in Sheffield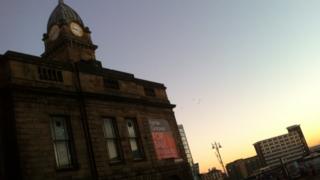 A campaign to save Sheffield's derelict Old Town Hall and Courtrooms has been given a funding boost.
Friends of the Old Town Hall campaigned for two years to save and restore the Grade II-listed Waingate building, which has been on and off the property market.
The group has been awarded £7,700 Lottery funding to set up a charitable trust and help preserve the building.
Chairperson Valerie Bayliss said Sheffield's origins were on that site.
More on this story and others from South Yorkshire
Ms Bayliss said: "The original settlement was down by the confluence of the Rivers Don and Sheaf, with the castle from the 13th to the 17th centuries.
"Old maps show Sheffield began in this patch and spread out over the centuries."
The 42,000 sq ft building, formerly the city's courthouse and town hall, is owned by G1 London Property and is currently for sale with Fernie Greaves for £3m.
Ms Bayliss said the building is in an "awful state" and had been vandalised.
"Three big skylights over one of the courtrooms were smashed just before heavy rain in summer, and a lot of doors and panels have been smashed," she said.
"A survey done a year ago though showed the building is structurally sound and it can be brought back."
The Friends would like to see the building used for creative spaces and start-up businesses.
"Imagine performance and rehearsal rooms in the double-height Victorian courtrooms," Ms Bayliss said.
"A restored Old Town Hall would be a wonderful catalyst for Castlegate.
"There could be a community cafe and bar and a school for apprentices learning heritage construction crafts while working on the building."
Sheffield Council plans to rebuild the entrance to Sheffield's former castle as part of the £5m regeneration of the area.