Five-star hotel could replace Sheffield's central library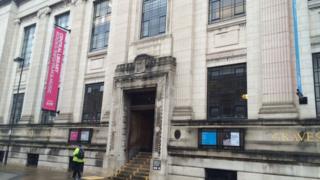 Sheffield's central library could be replaced with a five-star hotel as part of a Chinese investment deal.
Sheffield City Council signed the deal with Chinese construction firm Guodong UK Ltd in July, with £220m pledged over the next three years.
If plans go ahead, it would be the city's first five-star hotel.
The library would move elsewhere in the city centre, while Graves Art Gallery would remain in the building with full public access, Sheffield Council said.
The Central Library and Graves Gallery were opened in 1934 by the Queen Mother, then Duchess of York, but the listed building is now in poor condition. The council said about £30m was needed to bring it up to modern standards.
Leigh Bramall, deputy council leader, said a five-star hotel was "exactly what Sheffield needs to support the vibrant, growing city centre".
The deal with Sichuan Guodong Group was signed in July and is the biggest Chinese investment deal of any UK city outside London.
Guodong UK earmarked the library for a hotel because of its prominent location near theatres and transport facilities.
Graves Gallery was funded by businessman philanthropist JG Graves, who gifted his large art collection to the people of Sheffield.
Dona Womack, of JG Graves Charitable Trust, said: "The trustees are aware of the outline proposals for the Graves building. We are looking forward to working with the City Council to secure the future of this iconic building, however until plans become clearer we are not in a position to comment further."
'If right for city'
Mr Bramall said: "This agreement is being entered into on the basis that Guodong UK would wish to protect the building, in order to maintain and enhance it so as to preserve the building's character.
"We are absolutely clear that we will only do the final deal on this project if it is right for the city."
The council will examine the best options for moving the library while Guodong UK carries out a 12-month feasibility assessment.
Guodong has proposed a £30m private residential development near West Bar, and an educational partnership between Sheffield and Chengdu.
Sheffield has also signed trade agreements with Nanchang and Daqing.
Work is under way on a £65m "Chinatown" development in the London Road area.