Miners' strike: Short films premiere at Leeds film festival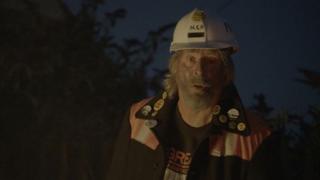 Eight short films made by people who experienced the 1980s miners' strike will kick off the Leeds International Film Festival on Monday.
The films, made in South Yorkshire, are collectively called Mining the Memories.
Filmmakers worked closely with students, graduates and staff from the Northern Film School at Leeds Beckett University to make the titles.
The films will be shown in the Albert Room at Leeds Town Hall later.
Ex-coal miner Sam Morgan, wrote the screenplay Respect, on the relationship between mining and the military.
He said: "It meant so much to me to be invited to make the film; especially as the Leeds Beckett team allowed me to be hands-on in several aspects of the creation of the film, even allowing me to make a small cameo appearance dressed as a coal miner on his way to inspect an old airshaft.
"It has been a fantastic experience from start to finish; especially as the mining industry has been finally laid to rest by the establishment."
Those involved in the project took part in workshops by screenwriting lecturers from the Northern Film School, about what the strike meant to them and the long-term consequences for themselves and their communities.
They then worked their ideas into scripts ,and the films were shot on location in and around South and West Yorkshire.
---
Mining the Memories
The workshops resulted in five short dramas - Blacker than Black, A Piece of Coal, Respect, She Had a Dream and Coke Not Coal - two documentaries and an animation.
They were made by South Yorkshire residents who experienced the miners' strike of 1984-1985. They were either ex-miners, miners' wives or their daughters.
One documentary is based on the Orgreave Truth and Justice Campaign and the other was made with the Goldthorpe Community Shop.
The animation is called The Enemy Within?
---