Pigeon arson victim thanks community after lofts rebuilt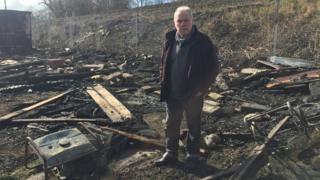 A man has thanked the local community for their help to rebuild his racing pigeon sheds after a "devastating" arson attack killed his birds.
John Holmes, of Kendray, Barnsley, lost 90 pigeons when the lofts were set alight and reduced to "ashes and metal" in the early hours of 15 March.
After the story was published in the Barnsley Chronicle, an online campaign was started to raise funds to help.
His allotment in Stairfoot was rebuilt after £1,500 was raised.
Donations included money from a local working man's club and a football club with offers of help coming from as far away as Germany.
A plaque was installed on one of his new sheds to remember his son, who died two years ago from an asbestos-related illness.
Mr Holmes, 74, said: "All my corn, my minerals, my baskets, everything was burnt to the ground.
"That's what you call devastating, it still upsets me - memories of my son and all the work.
"When these people ended up doing all of this it was amazing, there isn't enough thanks in the world.
"I didn't think I would get it back at all, I didn't think anyone cared."