Stannington farmhouse fire 'probably cooking-related'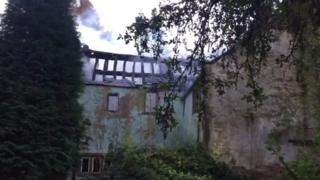 A blaze at a farmhouse which killed two people was "likely to be cooking-related", the fire service has said.
The bodies of a man and woman, believed to be in their 90s, were found inside the building on Spout Lane in Stannington, Sheffield.
At the height of the blaze, 20 firefighters from South Yorkshire Fire and Rescue were called in to tackle the fire.
An investigation is under way. The victims have yet to be named.