'Bread dumping' threat to ducks in Sandall Park in Doncaster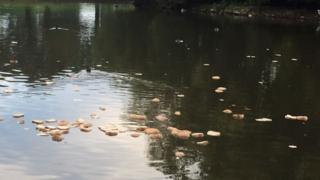 The health of ducks, geese and fish at a park has been put at risk because of large amounts of bread being dumped, a charity has claimed.
The Friends of Sandal Park, in Doncaster, said the bread was being dumped two to three times a week.
The group said bread offers little nutritional value and damages the lake's ecosystem.
On some occasions up to thirty full loaves had been thrown into the lake, the voluntary group added.
Read more about this story and others from across South Yorkshire
Les Jones, from the group, said: "It has become a regular problem.
"I come round and patrol the park and I have noticed over the last few months the amount of bread was really increasing.
"It was not feeding ducks it was dumping bread."
Mr Jones said the organisation had no idea who was responsible.
"It is getting done out of sight and when we are not patrolling the park but we can not be there 24/7."
He said there was little they could do to catch the culprits beyond highlighting the issue.
The group has been campaigning to try and discourage visitors to the park from feeding bread to the ducks.
This has involved approaching visitors and asking them to swap their bread for bags of wild bird food.
---
Why is bread no good for wildfowl?
A bread-rich diet, particularly processed white bread, can cause wildfowl to become ill and obese
Decomposing bread creates bacteria and attracts vermin
Bread can also attract too many birds to one location, damaging natural habitats
Rotting bread increases naturally occurring surface algae damaging fish populations and denying sunlight to underwater plants
Impairs the ability of young birds to learn how to forage for food
Source: Canal and River Trust
---