RSPCA called to tortoise rescue find garden ornament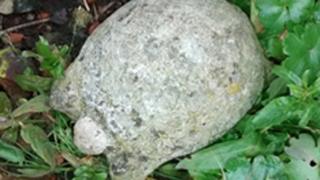 An "escaped tortoise" sparked a call to the RSPCA only for the officer to discover a stone garden ornament.
The animal welfare charity received a call on Monday from a woman who spotted what she thought was a tortoise in a garden in Sheffield.
She asked neighbours if anyone owned the reptile but, after being unable to find an owner, called the RSPCA.
Animal welfare officer Liz Braidley said: "It soon became clear he wouldn't be giving me the run-around."
She said: "It did make me laugh.
"The welfare of animals is at the heart of everything we do... so we wouldn't want to deter anyone who is worried about an animal from getting in touch with us".
More on this and other stories from across South Yorkshire
Last month, the RSPCA was called to help a bird tangled in an aerial. However, when the officer arrived at the address in Enfield, London, he discovered the 'bird' was in fact a kite attached to the aerial - to deter wild birds.
It also dealt with reports of a baby crocodile at the side of the road on the A54 in Winsford, Cheshire which turned out to be a "realistic-looking plastic toy", it said.