Sheffield FC bid for UNESCO World Heritage Status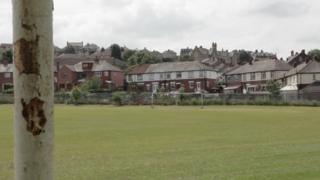 The world's oldest football club, Sheffield FC, has applied for UNESCO World Cultural Heritage status for its original Olive Grove ground.
The club, which was founded on 24 October 1857, made the announcement on its 159th anniversary.
Chairman Richard Tims said: "This move for world cultural recognition is not only a celebration for the club but also for our fans and world football."
Currently situated at Dronfield, the club plans to move back to Olive Grove.
Mr Tims said he hopes the bid would "protect the game's roots through internationally recognising Olive Grove, the field on which football and the world's first football club was founded".
He told the BBC becoming a UNESCO heritage site could help the club, currently playing in the Northern Premier League Division One South attract grant aid.
The extra publicity would also benefit Sheffield as an "international tourist destination."
Mr Tims said: "At home games in Dronfield, we have visitors popping in from Spain, from Germany, from all over who just want to visit where football started."
He envisaged the ground to be "a place where kids can experience the heritage of the game" rather than a museum.
Sheffield FC was founded in 1857 by Nathaniel Creswick and William Prest
The club was responsible for the first officially adopted set of rules and laws for the game
It is recognised by FIFA and the FA as the world's first football club
There are 814 UNESCO Cultural Heritage sites around the world, including the Taj Mahal, the Great Barrier Reef and the Grand Canyon
25 UNESCO Cultural Heritage sites are in the UK and Northern Ireland
Two are in Yorkshire: Fountains Abbey and Saltaire