Work begins to merge Maltby police and fire stations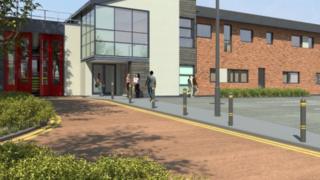 Work has begun to merge police and fire stations in South Yorkshire.
South Yorkshire Fire and Rescue said moving Maltby fire station into the newly-modified Maltby police station would save public money.
The plans to accommodate fire service vehicles and staff into the police station on Byford Road were approved by Rotherham Council last year.
The fire service said the new building was expected to be finished by spring 2017.
Last year the government announced proposals for more collaboration between emergency services to improve efficiency and effectiveness. It awarded £560,000 towards the £1.2m Maltby project.
South Yorkshire Fire and Rescue said in the move fire service resources would move to the east side of Rotherham, where there are a greater volume of emergency incidents compared to the east of Maltby.
Chief Fire Officer James Courtney said the move made "perfect sense" for the services and the taxpayer.
He said police and firefighters would be able to share knowledge, skills and expertise more easily when tackling issues such as anti-social behaviour and road accidents.