Sheffield Children's Hospital raises £400k from elephant sculpture auction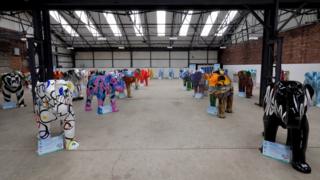 A herd of more than 50 elephant sculptures has been sold at auction for £410,600 in aid of the Sheffield Children's Hospital.
The 58 fibreglass models had formed part of a public art trail in the city.
An elephant designed by artist Matthew Cooper and signed by the members of Arctic Monkeys sold for £16,500 while artist Pete McKee's elephant 'Marjorie' sold for £22,000.
Money raised from the auction will help pay for new scanner equipment.
David Vernon-Edwards, director of the Children's Hospital Charity, said: "I still can't believe it. I thought they would go for about £150,000.
"It's just beautiful. It's honoured the patients at the hospital, it's honoured the staff at the hospital. Sheffield has just shown how wonderful a place it is."
An elephant designed by BBC Radio Sheffield competition winner Jane Norburn, a receptionist at High Storrs School, was sold for £6,200 and donated to the school by Philip and Debbie Prince.
Ms Norburn said staff and pupils had hoped to raise enough money to buy the sculpture themselves.
"Children were bringing in their actual piggy banks, opening the rubber bung at the bottom and pouring it onto the desk," she said.
"The guide price was about £1,500 and when we raised £2,600 we thought we would be ok, but it was very obvious when the first elephant went for over £5,000 that we were going to lose her."