Rotherham Council set to regain taxi licensing powers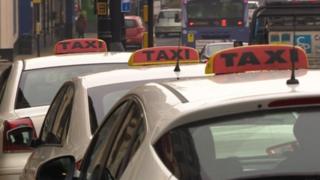 Plans to return taxi licensing powers to Rotherham Council have been announced 20 months after it was stripped of the responsibility in the wake of the child abuse scandal.
Communities Secretary Sajid Javid said he was "satisfied" the authority is ready to resume command following a series of improvements.
Government-appointed commissioners took control of the council in 2015.
Commissioner Mary Ney said the plan was a "significant step" for the council.
For live updates and more from across South Yorkshire
She said the authority had made a number of improvements, including introducing a "fit and proper person" test for new drivers and requiring that all taxis are fitted with CCTV and audio recording equipment.
"Public confidence and safety is now at the heart of the council's licensing service and the new Hackney Carriage and Taxi Licensing Policy, the benefits of which we know passengers are already experiencing," she said.
She said the council was "rebuilding trust and confidence in the way services are managed and delivered" and said taxi regulation "will be another significant step forward".
Tighter controls on the taxi trade were introduced after a report found taxi drivers had a "prominent role" in the sexual abuse of 1,400 children between 1997 and 2013.
Rotherham Council must respond to the proposal to hand back the powers by 3 November before a final decision is taken