Rail freight firm DB Cargo plans to cut 900 jobs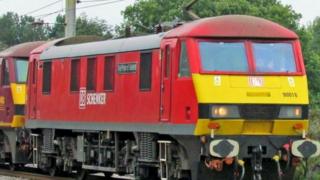 A rail freight firm has said it plans to cut up to 900 jobs due to what it said were "declining markets".
German-owned DB Cargo has its UK headquarters in Doncaster, South Yorkshire.
The company insisted no final decision had been made and was committed to supporting staff who may be at the risk of redundancy.
The Rail, Maritime and Transport (RMT) union said the announcement was "devastating news".
Read more about this story and others from across South Yorkshire
Hans-Georg Werner, chief executive of DB Cargo UK, said it was a tough decision.
"Whilst this is a difficult time for all of us at DB Cargo UK, reshaping the company will enable us to build a business for the future and protect the majority of jobs," he said.
DB Cargo is the UK's largest rail freight haulier and employs around 3,400 people across the country.
The company has blamed a drop in demand for transporting goods such as coal and steel.
It said between January and September it saw a 78% reduction in the number of coal trains it ran and a drop of 33% in the number of steel trains.
Mick Cash, general secretary of the Rail, Maritime and Transport (RMT) union, said: "This is devastating news brought on through a combination of cut-throat practices in the UK rail freight industry and a shocking lack of government support for this key section of our transport infrastructure."
He said the union would meet to consider its response and added: "It is imperative right now that the Government intervene to save skilled jobs in the rail freight industry which are being butchered before their eyes due to a lack of action to protect steel, coal and the rest of our manufacturing base."