Sheffield Park Hill renovation to be 'complete in five years'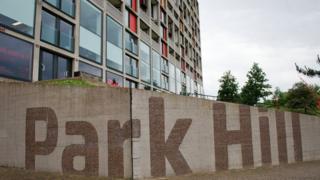 The regeneration of a once-notorious estate in Sheffield is to be completed within five years, developers said.
Future work on Park Hill - Europe's largest listed building - will see another 210 apartments and 330 student housing units, Urban Splash said.
Renovation work on the large site near the city centre started in 2007 and has only been partly completed.
The estate opened in 1961 and was the most ambitious inner city housing schemes of its time.
More on this and other stories from South Yorkshire
The BBC filmed a documentary there in 1965 on the families who had moved to the "streets in the sky".
By the 1980s, the flats were dilapidated and notorious for drugs and crime.
However, English Heritage gave it Grade II-listed status in 1997, making the brutalist complex Europe's largest listed building and preventing it from being demolished.
'A massive challenge'
Urban Splash said it has now reached agreement with Sheffield City Council to finish the work that has been going on almost 10 years.
There are about 600 people living and working at Park Hill including affordable housing, rented and owner-occupiers.
Simon Gawthorpe, managing director of Urban Splash, said: "This is great news for us and for Sheffield, we can now fulfil our ambitions for the project."
He said the site extended over 35 acres and admitted the scheme had proved challenging due to the recession.
"We want to do stuff that is challenging," he added.
Councillor Mazher Iqbal, from the council, said the plans would secure the completion of the Park Hill development.
"Urban Splash have brought forward a viable and workable plan to complete the final phases," he added.
---
The 'Marmite' estate
Park Hill is referenced in the lyrics of Pulp's song "Sheffield Sex City"
The estate was used as the location in This Is England 90 and in The Arctic Monkeys video for The View from the Afternoon
Park Hill is also known for a graffiti wedding proposal written on one of the estate's bridges
One of the architects involved in the project described the flats as being like "Marmite"
---