Sheffield schoolgirl dies of suspected meningitis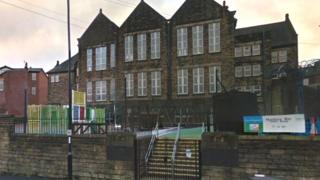 A nine-year-old Sheffield girl has died of suspected meningitis.
Parents with children at Hunters Bar Junior School were sent a letter telling them a girl in Year 5 had died on Tuesday.
The letter said the probable cause was the meningococcal bacteria, which can cause meningitis.
Head teacher Jill Hallsworth said the child had a "beautiful personality... she was special and will be missed".
People likely to have been in closest contact with her have been identified and offered antibiotics.
Ms Hallsworth said: "We are all just so sad that a member of our school community has died but we are taking a lot of time to remember her beautiful personality.
"She was a genuinely good person and helped everyone she could. She was special and will be missed. Our thoughts are very much with the family at this difficult time."
A Sheffield City Council statement said: "We are working with the school community to support them during this difficult time and our deepest thoughts are with the child's family and loved ones."
Meningitis symptoms
A high temperature and/or vomiting
Severe headache
A stiff neck, aching limbs and joints
A dislike of bright lights
Drowsiness and/or purple rash, which does not fade when pressed
In small babies, a refusal to feed, a high-pitched cry and swelling of the soft spot on top of the head
Source: Meningitis Now