Fourth unexploded WW2 bomb found in Sheffield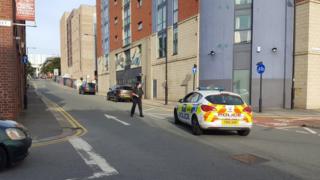 Several streets in Sheffield were closed after an unexploded bomb was found during building work.
It was the fourth time in a week a device - believed to be a World War Two munition - had been found in the city.
Roads around Matilda Street were sealed off at about 10:30 BST and traffic was diverted as police liaised with a military bomb disposal team.
The area was declared safe by South Yorkshire Police about four hours later.
Three devices were uncovered in the same area last Wednesday and a temporary cordon was put in place.