Crossing campaigners stage Sheffield Town Hall demo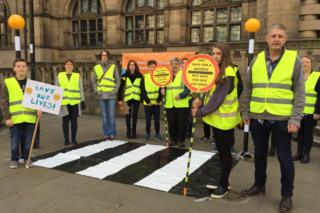 Campaigners calling for a pedestrian crossing to be installed where a 12-year-old schoolgirl was badly injured have staged a demonstration outside Sheffield Town Hall.
Grace Jacobs suffered a broken leg and wrist when she was struck by a car as she crossed Hangingwater Road in 2015.
The group set up a mock zebra crossing to highlight their campaign.
Calls for a crossing at the junction of Hangingwater Road and Whiteley Wood Road have been backed by 6,500 people.
Martin Jacobs said: "Children are crossing this road every day and it's very dangerous.
"Somebody is going to have another accident before long."
He said a 6,500-signature petition calling for a crossing and safety improvements at the junction will be presented to Sheffield City Council on Wednesday.
Grace said: "I suffered bad enough injuries and for anybody else to get injured would be horrible."