Ben Needham search: Excavations to start for missing toddler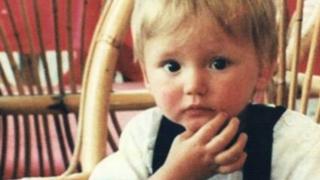 Digging will begin next week on a Greek island as part of the search for missing British toddler Ben Needham.
Ben, from Sheffield, was 21 months old when he disappeared on 24 July 1991 during a holiday on Kos.
Last week, police told his family that new information suggested he could have been crushed to death by a digger.
South Yorkshire Police said excavations would take place on Monday at two former farmland sites close to where Ben was last seen.
More on this and other South Yorkshire stories
The force said it expected the first excavation to take 10 to 12 days and that "any unusual items recovered" would undergo forensic testing.
A decision on whether to dig at the second site would be made after work had finished at the first, a spokesman.
In a statement the force said it was "entirely expected that the team will regularly come across bones in the ground as the site is former farmland".
A spokeswoman for the Campaign To Find Ben Needham said they were supporting his family as "much as we can".
She said: "The campaign has received thousands of comments, emails and messages of support which is simply overwhelming and goes to show Ben and the Needhams is in the heart of the nation at this time."
Ben was holiday with his mother and grandparents, who were renovating a farmhouse in the village of Iraklise, when he vanished.
His family and supporters have led a campaign to find him and his mother and police officers have appeared on Greek television to appeal for information.
Earlier this year, South Yorkshire Police secured funding form the Home Office to send 10 officers to Kos to carry out further investigations.
---
The disappearance of Ben Needham
24 July 1991: Ben Needham vanishes after travelling to Kos with his mother and grandparents.
September 1991: Ben's family returns to England due to illness, but his mother Kerry Needham continues to campaign for her son to be found.
February 2011: Prime Minister David Cameron responds to Mrs Needham, offering to support South Yorkshire Police and to press the Greek authorities.
May 2011: BBC airs a programme called "Missing 2011" which includes a segment on Ben.
September 2011: Greek police on Kos reopen Ben's case.
October 2012: A police operation focusing on a mound of earth and rubble close to where Ben was last seen finds no trace of him.
October 2013: Police say a DNA test carried out on a man in Cyprus proves he is not Ben Needham.
March/April 2015: Another DNA test on another man in Greece proves negative.
January 2015: South Yorkshire Police gets £700,000 from the Home Office to continue the investigation.
March 2016: The force secures a further £450,000 in funding.
May 2016: A team of 10 South Yorkshire Police officers visits Kos to carry out house-to-house visits.
September 2016: Police say two locations on the island will be excavated.
---