Doncaster appeal for veteran's stolen watch and medals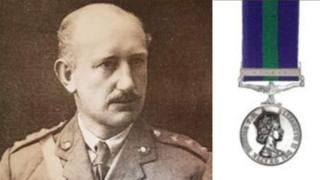 An appeal has been launched to find a stolen watch that belonged to a veteran of World War One and the Boer War.
The gold pocket watch, owned by the late Maj Herbert Baker, as well as jewellery and two medals, were taken during a burglary on Stoops Lane in Bessacarr, Doncaster, on 29 August.
South Yorkshire Police has asked for help to find the sentimental items.
The watch bears the crest of the King's Own Yorkshire Light Infantry with whom Maj Baker had a 42-year career.
It is also engraved with the words: "Presented by the members of the 5th K.O.Y.L.I Ex-Officers Club to Major H Barker M.B.E, M.C, M.S.M, T.D."
A General Service Medal for Malaya engraved with "DH Barker" around the sides, was one of those stolen.