Children's home closures approved by Rotherham Council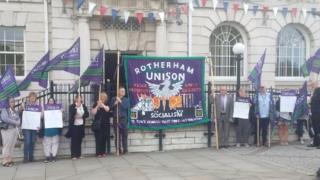 Two out of Rotherham's three children's homes are to close, it has been confirmed.
The proposals to close Silverwood and Cherry Tree House, which are both vacant, were approved by Children's Commissioner Patricia Bradwell.
The authority wants to shut what it calls the "poorly performing services" and place more children in foster care.
Union members lobbied Rotherham Council over its plans in a protest outside the town hall on Monday morning.
Workers from the union Unison said the proposals would leave Rotherham without any in-house residential places for children.
It said young people were already placed as far afield as Portsmouth and the closures would only make that situation worse.
Ofsted ratings
In a statement, it said: "Unison does not support the proposed closure of Silverwood and Cherry Tree House.
"It believes improvement action plans should be pursued by the council in order to achieve outstanding, cost effective, in-house provision rather than rely on expensive out of area residential provision to accommodate young people with behavioural and mental health needs."
Rotherham Council said it wanted all children it looked after to receive the best possible care.
Cherry Tree House - which provides long-term care for up to five young people with disabilities - was rated as "requires improvement" by Ofsted in 2015, with "improved effectiveness" in March this year.
Silverwood Children's Home - for young people with emotional and behavioural difficulties - was rated as "good" by Ofsted in June 2015 with "declined effectiveness" following an inspection in February 2016.
It said the decision "follows a period of targeted consultation... after concerns were raised at both homes through Ofsted reports.
"Although subsequent improvements were made, these were not enough to maintain confidence in the future operations of both homes."
The homes are expected to close by January.