Strip club intended to offer 'mother-in-law death packages'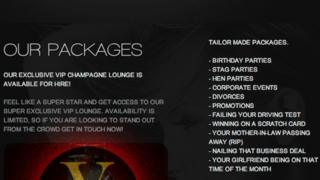 An application to open a strip club offering packages celebrating the death of mothers-in-law has been withdrawn.
Villa Mercedes cancelled its bid for a sexual entertainment venue licence in Sheffield after objections were made to its "deeply misogynistic" advertising.
More than 180 objections were received against the planned venue on Leadmill Road.
The company, Rockwave Leisure Ltd, said it would issue a statement in "due course".
Read more about this and other stories from across Sheffield and South Yorkshire
The online advert also encouraged clients to take advantage of a tailor-made package for "Your girlfriend being on that time of the month".
It was shown to councillors considering the company's application for the licence on Thursday.
Zero Option Sheffield, which campaigns for the city to be free of sex entertainment venues, included the promotional website in its presentation to the council.
"We believe that a club whose website promotes packages for men to attend the venue because their mother-in-law has died or because their girlfriend is having a period cannot possibly foster good relations between the sexes or advance equality opportunity for women," it stated.
The campaign group said it was relieved the club had withdrawn its application.
Sheffield City Council said about 40 objectors had attended the hearing.
According to the authority, the solicitor representing the applicant told councillors that after "listening carefully" to the objections his client cancelled the application.