Doncaster petrol station spelling blunder sees 'petrel' on offer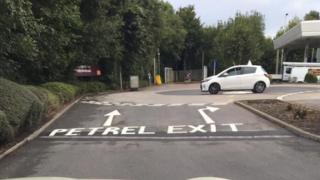 A road sign marking directing motorists to a supermarket petrol station has been misspelt, leaving drivers bemused.
The word "petrel" has been painted in 3ft high letters on the approach to the pumps at the Sainsbury's Edenthorpe store in Doncaster.
A picture of the blunder was posted on social media with the comment "Seabirds straight ahead #YouHadOneJob".
In a light-hearted response, the superstore said: "We're aware of this and correcting the misteke."
The white letters, which may have left drivers thinking they were being pointed towards a species of small seabird, were painted by bungling signwriters next to the flawlessly spelt word "exit" and some perfectly drawn arrows.
It prompted a flurry of social media users mocking the blooper, with some employing their own deliberate spelling errors.
Aaron Jones tweeted: "Only in Doncaster would you go for 'Petrel' instead of 'Petrol'."
While Martin Milan posted: "@sainsburys Your Edenthorpe, Doncaster store... What if I want Deesul lol?"
Petrels are small seabirds that fly low over oceans and seas.