South Yorkshire weapons surrender sees more than 180 handed in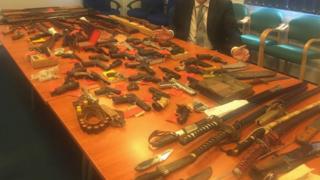 More than 180 weapons have been handed in during a three-week surrender run by South Yorkshire Police.
The haul included shotguns, pistols and air rifles, 200 rounds of ammunition and several Samurai swords.
The amnesty allowed people to dispose of firearms or knives with no fear of being prosecuted for possession.
Det Ch Insp Steve Whittaker said removing that number of firearms was a "tremendous effort".
Sheffield saw the largest number of firearms handed in across the county with 30, said the force.
The weapons would undergo forensic testing and there could be police investigations if any were found to have been used in criminal activity, it added.
Det Ch Insp Steve Whittaker said occasionally firearms are passed down generations as family heirlooms and leave the owner without a licence and illegally in possession of an unwanted gun.