Sheffield government jobs 'saved by reshuffle'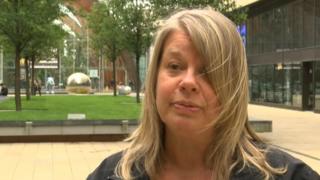 About 100 government jobs that were due to be moved from Sheffield to London will not now be transferred, the Public and Commercial Services Union says.
Plans to relocate the city's Department for Business, Innovation and Skills (BIS) office were announced in January.
But, following a reshuffle about 100 posts have been transferred to the Department for Education's Sheffield office, while 70 are still at risk.
The union said some of the 250 staff affected had already taken redundancy.
Live updates on this story and more from across South Yorkshire
BIS, which said relocating the office was part of a plan to centralise policy making and save money, was replaced by the Department for Business, Energy & Industrial Strategy (BEIS) in July.
Union representative Marion Lloyd said staff had reacted to the news with "relief, anger and bitterness".
"The last seven months have been extremely difficult and continue to be difficult for at least 70 people. It has been a rollercoaster ride," she said.
"There's a mix between absolute anger and bitterness and a lot of tears, in some people's eyes that was relief [in others] fury that one government department can have such a different approach to delivering policy to another.
"Unfortunately, a lot of people have now been made redundant, which is criminal in the circumstances. People have made life-changing decisions and, bluntly, did not need to."
She said the jobs that remained at BEIS remained under threat from relocation and that union officials were seeking a meeting with new secretary of state Greg Clark MP.
Sheffield Hallam MP Nick Clegg described the news as "a victory for common sense" and called on the government to "guarantee rest of jobs under threat will stay in Sheffield and apologise to those affected".