Tree campaigners use open top bus to highlight Nether Edge tree plight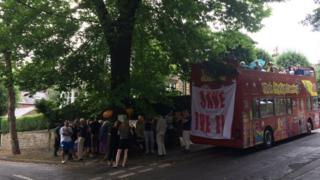 Campaigners fighting a city tree felling programme have used an open top bus in a bid to save a "rare elm tree".
Campaigners boarded the bus to get a closer look at the mature elm tree in Nether Edge, under threat of felling by Sheffield City Council.
They said it also gave them chance to see a rare white letter hair-streak butterfly which lives in it.
The council said it has taken independent advice and would make a final decision on the tree soon.
In April, a High Court judge dismissed a bid for a judicial review into Sheffield City Council's tree felling programme.
However, campaigners have vowed to fight on, despite having no more legal options.
Matt Larsen-Daw, from The Woodland Trust, said the bus gave people the chance to raise awareness before it was too late.
The council said its tree felling scheme was to remove dead, diseased or dangerous trees from roadsides in the city.