Sheffield parks could be flooded to protect city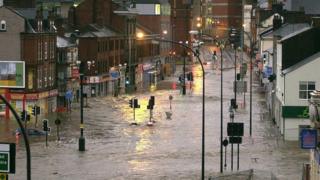 Floodwater could be diverted into parks and woodlands across Sheffield to protect homes, businesses and infrastructure.
Sheffield City Council has suggested building embankments in Millhouses Park, Endcliffe Park and Coronation Park to contain flood water during significant storms.
It has also proposed storage areas at Beeley Wood and Whiteley Woods.
The suggestions are among a number being put out for public consultation.
The council said the parks would only be flooded for short periods, as part of the £83m flood prevention scheme.
It said it would carry out "careful assessments" of temporary flood water storage on woodland trees and habitats.
Councillor Bryan Lodge, cabinet member for environment, said: "Some of these options are sensitive, including the temporary flooding of ancient woodland and changes to some of the city's parks which may include the removal of trees.
"But it's worth stressing that these are only options, no decisions have been made."
The programme was launched in the wake of the 2007 floods which resulted in the deaths of two people in the city.
Work has already begun on new flood defences in the Lower Don Valley.
The consultation will run until 31 October.