South Yorkshire Police chief role not 'poisoned chalice'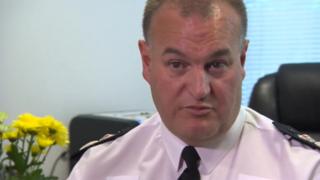 The new chief of South Yorkshire Police has said the job is not a "poisoned chalice" despite accepting the force must learn from its failings.
Stephen Watson believes "we can't be a prisoner of our own past", referring to criticism of the force over inquiries into the likes of child sexual exploitation in Rotherham.
Mr Watson is replacing David Crompton, who was suspended from his post.
He has promised "fundamental reform" under his stewardship.
South Yorkshire Police has also been heavily criticised in recent years over the Hillsborough inquests and the so-called Battle of Orgreave, during the miners' strike in 1985.
Live updates on this story and more from across South Yorkshire
Asked why he had applied for the job Mr Watson, the former deputy chief constable of Durham, said: "I do not think it is a poison chalice. I'm very pleased and proud to have been appointed.
"It's true to say the force has been criticised, rightly so, for many things [but] I think the truest and most sustained criticism would be if we did not learn lessons from those things.
"But, whilst I would emphasise the fact that our legacy is really important and we cannot deny the significance of all that has gone before, we can't be a prisoner of our own past, we do have to live in the here and now."
'State of transition'
Last week, newly appointed Home Secretary Amber Rudd said she was looking at a "fundamental reorganisation" of the force.
However, Mr Watson said he believed the comments showed an "understanding that South Yorkshire Police was in a state of transition".
"She was reflecting upon the fact that she knew a new appointment had been made and we had had a peer review of the force," he said.
Mr Crompton was suspended following the Hillsborough inquests and proceedings requiring him to either resign or retire from his post are under way.