HS2: South Yorkshire drop-in takes place for residents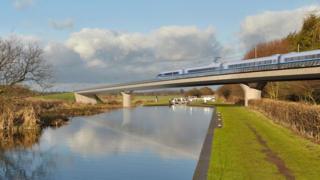 HS2 representatives are running their first drop-in sessions in South Yorkshire since the proposed route of the line was significantly changed.
The new route saw a proposed station in Meadowhall scrapped in favour of a stop in Sheffield city centre.
A new housing estate in Mexborough could be bulldozed under the changes, and a public meeting was held on Monday night in opposition to the plans.
The drop-in at Mexborough Resource Centre runs between 12:00-19:00 BST.
The newly proposed route will run east towards the M18 before rejoining the original route south of the M62.
Meanwhile high-speed trains will use existing tracks to access Sheffield, stopping at the city's Midland station.
More on this story and others in South Yorkshire
Developers Strata are still in the process of building homes on the now at-risk Shimmer estate in Mexborough.
Sue Douglas, who attended the meeting on Monday, said: "The fact sheet we have got is still very general.
"We are still absolutely convinced that they didn't know the estate was there when they drew the line on the map, because they have come to Mexborough totally unprepared."
A letter to residents said: "A detailed plan for construction would not be developed until at least 2020, and would be subject to detailed scrutiny before approval by Parliament.
"If this plan is approved by the Secretary of State for Transport, it is likely that the Government would need to acquire some or all of your land or property in order to construct the railway."
On the wider impact of the proposed changes, David Higgins of HS2 Ltd claimed it would save more than £1bn and result in journey times to London of 79 minutes.
A Department For Transport spokesperson said: "HS2 Ltd is engaging with communities along the new HS2 route proposed by Sir David Higgins to provide them with the necessary support and information as quickly as possible.
"We will consider the recommendations made in the Sheffield and South Yorkshire HS2 report and make an announcement on the Phase 2 route later this year."