Fundraising appeal for PTSD soldier memorial launched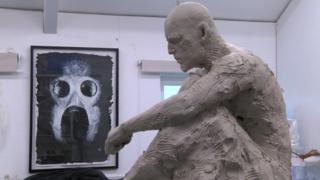 A £70,000 appeal has been launched to fund a statue to honour soldiers with post-traumatic stress disorder (PTSD) who have taken their own lives.
Former Royal Engineer Tim Evers set up the bid after forming Sapper Support in 2015 after his friend, a PTSD sufferer, took his life.
Mr Evers, now a firefighter, said the life-size bronze was for the National Memorial Arboretum in Staffordshire.
Leeds sculptor Dean Kemp is making a model of the statue, The Hand At Peace.
Mr Evers said it would be the first memorial for soldiers, sailors and air personnel who had taken their own lives through PTSD.
He said relatives, visitors and friends would be able to reach out and touch the hand of the life-size sculpture.
"It's for their families," he said.
"The PTSD could date back to the Falklands, Bosnia or Afghanistan, but nobody knows what's coming, so in the future it will still be relevant."