Police search for WW1 soldier's family over medal find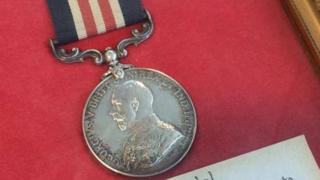 A medal awarded to a fallen soldier of World War One has been found in a cupboard at South Yorkshire Police's headquarters.
The force said it was hoping on the anniversary of the Battle of the Somme to try to trace the "hero's" family to return the medal to them.
It was awarded to Sgt Francis Bark from Calver, Derbyshire, after his death in France in May 1918.
It is unclear how the medal came to be in the force's custody.
The only clue, the force said, was that Sgt Bark had been a serving officer with the then Sheffield City Police.
Read more about this story and others from across South Yorkshire
A force spokesman said: "Francis's bravery deserves to be properly honoured and so we're keen to hear from anyone who may know more of his story or may have links to him.
"We have done a bit of digging and now know Francis Bark was the only son of John and Margaret Bark from Fareham in Hampshire."
At some point between 1911 and 1916 the family had moved to Derbyshire where Sgt Bark worked as a woodman before joining the police.
"He was later enlisted to fight in the First World War with the 8th Battalion (Notts and Derby Regiment, The Sherwood Foresters)," he said.
"We think Francis was injured on 27 April in 1918 and lost his life just days later on 2 May aged 26. His body was buried in Pernes British Cemetery in Pas de Calais."
According to the medal citation, he was awarded the Military Medal posthumously for acts of gallantry and devotion to duty under fire.
The force said it hoped anyone who had information about Sgt Bark would contact them.