Lack of focus 'detrimental' to South Yorkshire Police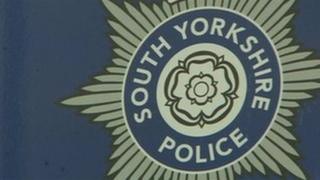 A lack of focus from chief officers at South Yorkshire Police in recent years is having a detrimental impact on the force, according to a new review.
The peer review by the College of Policing said the force lacked strategic vision and the capacity to implement effective change.
It also criticised the force's approach to neighbourhood policing and said it was failing to listen to its staff.
Interim Chief Constable Dave Jones said the report was an "uncomfortable read".
Live updates on this story and others in South Yorkshire
The review was carried out by 22 experts from a range of policing fields at the request of Mr Jones and South Yorkshire Police and Crime Commissioner Dr Alan Billings.
It found that while it had identified "real positives" the lack of direction had led to decisions being taken in isolation and often driven by financial needs or poor governance.
Stability a priority
The report said it had found "a cultural tendency within South Yorkshire Police to focus leadership effort on reactive operational activity to the exclusion of organisational (strategic) change and this has exposed the force during a period in its history where austerity, changing demand and legacy issues have collided to create the perfect storm".
In a series of recommendations it said the force needed to concentrate on stabilising its current policing model before implementing further change.
Mr Jones was appointed as Interim Chief Constable following the suspension of Chief Constable David Crompton in the wake of the Hillsborough Inquests.
He is expected to be succeeded by Stephen Watson in November.
He said: "The report is an uncomfortable read, but an important one if we are to return this service back to the heart of our communities.
"The report will be shared with the incoming Chief Constable and will undoubtedly become his priority in the months and years ahead."
Dr Billings said the review's findings would help the force to move forward would allow Mr Watson to "hit the ground running".