South Yorkshire Police website hacked by 'Albanians'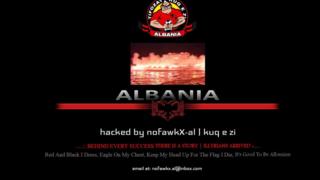 South Yorkshire Police's website has been hacked by a group purporting to be from Albania.
Following Sunday's hack, the front page of the site showed an Albanian banner and a carousel of images including football fans at Euro 2016.
It later changed to a message claiming "no data was leaked" and signed "Albanian Hackers".
A security expert warned the attack is "potentially very serious".
The force said it would use its Facebook and Twitter accounts to pass on any information while its technical team tried to regain control of the site.
'Deface page'
By 15:00 BST the site appeared to have returned to normal.
The first image posted by the group proclaimed: "It's Good To Be Albanian."
Later, the red and black image was replaced by text on a white background.
The message read: "no worry no data was leaked or deleted, simple a deface page was uploaded."
Last year, the Daily Mail reported a hack on Falmouth Town Council by the same group.