Girl bitten by South Yorkshire Police dog in Page Hall search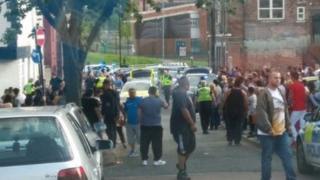 A 17-year-old girl has been bitten by a police dog in Sheffield, South Yorkshire Police have said.
The girl was treated in hospital for minor injuries to her arm following a search for stolen property in the Page Hall area at around 17:15 BST on Tuesday.
Before the search officers had been chasing a silver Skoda which was exceeding the speed limit.
Large crowds gathered around Longley Lane following the operation.
Live updates on this story and others from South Yorkshire
Police said there were no fights or disorder and no arrests made.
A police statement said the car was abandoned on Popple Street and a man believed to be driving was arrested shortly afterwards.
The injured girl was not in the speeding car or related to the arrested man.
"An officer and a police dog were then deployed to the Longley Lane area to search for stolen property in connection with the incident," police said.
"During the search, a 17-year-old girl was bitten by a dog on Hinde Street. She was taken to hospital with injuries to her arm."
The force said an internal investigation would take place.