Dan Jarvis MP calls for a Somme centenary Commons debate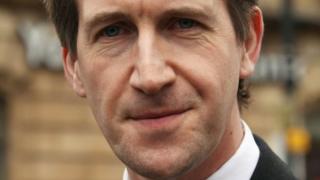 An MP and former soldier has called for a Parliamentary debate next month to commemorate the centenary of the Battle of the Somme in World War One.
Mr Jarvis, the Labour MP for Barnsley Central, is a former Army major who served in Afghanistan and Iraq.
He wants the Commons to mark an "important moment in our history".
The battle lasted between July and November 1916 and was one of the bloodiest battles in history, with 420,000 British casualties.
For more on this and other South Yorkshire stories
Britain suffered 60,000 casualties - including 20,000 deaths - on 1 July alone, the first day of the battle.
It was the British Army's greatest single loss of life in its history.
The army had taken the decision to form units known as Pals Battalions made up of recruits from the same cities and towns.
Civic pride prompted competition to attract the greatest possible number of new recruits.
The Pals Battalions suffered heavily on the first day.
Of the 720 Accrington Pals who went over the top, 584 were declared killed, wounded or missing in the attack.
The Leeds Pals lost around 750 of their 900 men and both the Grimsby Chums and the Sheffield City Battalion lost around half of their men.
The French lost 200,000 men and the Germans nearly 500,000 during the Battle of the Somme, according to estimates.
The battle has come to symbolise the horrors of the carnage and slaughter in World War One.
Mr Jarvis raised the issue of a debate in Culture, Media and Sport Questions.
Acting culture minister David Evennett said he would back a debate and added: "I totally endorse his comments."