Sheffield tree-felling contractors held up by protest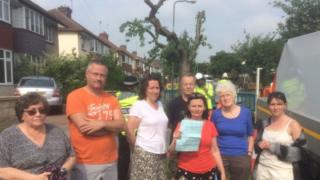 Protesters delayed attempts to fell council-owned trees for several hours in a Sheffield suburb.
As residents held up the workers, police were called to the stand-off in Bannerdale Road, Carterknowle.
Felling began at 06:00 BST as of part of Sheffield City Council's £2bn Streets Ahead scheme but protestors stood within the erected barriers.
One protestor, Kath Williamson, said: "I could absolutely weep because this is just a huge, beautiful cherry tree."
She added: "The council gave absolutely no notice of this I have any record of. Effectively this vista is lost to the city."
She said she did not think the trees felled would be replaced with cherry trees.
The police said they were called to the road about 07:00 and left around five hours later, no arrests were made.
One resident gave his name as Ken and said he was a former dendrologist disagreed: " I get rather annoyed when you see these people putting these notices on trees that they want saving, they don't know anything about the trees they just say 'these are healthy trees' and they're not."
The scheme is to remove dead, diseased or dangerous trees from roadsides in the city, according to Sheffield City Council.
In April a High Court judge dismissed a bid for a judicial review into the tree-felling programme.
Sheffield City Council has felled more than 3,300 trees since 2012 and has yet to comment on protest.