Four 'eminent' citizens made Honorary Freemen of Barnsley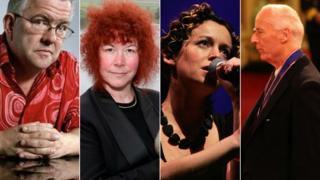 A poet, Egyptologist, singer, and former Lord Lieutenant of South Yorkshire have been named Honorary Freemen of Barnsley.
Ian McMillan, Joann Fletcher, Kate Rusby and David Moody were awarded the honorary freedom by Barnsley Council at the Town Hall.
The honour is the highest the authority can bestow on a citizen.
A council spokesman said the title is granted to people who have "rendered eminent service to the borough".
Live updates on this story and others from across South Yorkshire
---
The recipients
Ian McMillan is an English poet, journalist, playwright and broadcaster
Kate Rusby is a singer songwriter and known as The Barnsley Nightingale
Joann Fletcher is an Egyptologist and professor in the Department of Archaeology at the University of York
David Moody served as Lord Lieutenant of South Yorkshire between 2004 and 2015
---
Kate Rusby told BBC Radio Sheffield: "It's just absolutely fantastic, I'm totally over the moon.
"I was born and brought up here and spend all my life here but I've also toured all over the world and wherever I've been I've always told people about this amazing part of the world."
Ian McMillan said: "It's fantastic, a great, great honour. I've never been a fan of honours but this is one honour that I'm happy to accept."
On receipt of the award, Joann Fletcher called it an "enormous privilege".
She said: "This is the greatest honour of my life and it will always remain so."
David Moody thanked the borough for the "extraordinary honour" and said it was "beyond my wildest dreams".
The title of Honorary Freeman of the Borough was last awarded in 2007 to former Labour MP Lord Mason of Barnsley.
Roy Mason, who died in 2015 at the age of 91, was an ex-miner who served as Secretary of State for Northern Ireland and Secretary of State for Defence in the 1970s.
Other recipients include former test cricket umpire Dickie Bird and Rita Britton, who ran fashion boutique Pollyanna from 1967 to 2014.